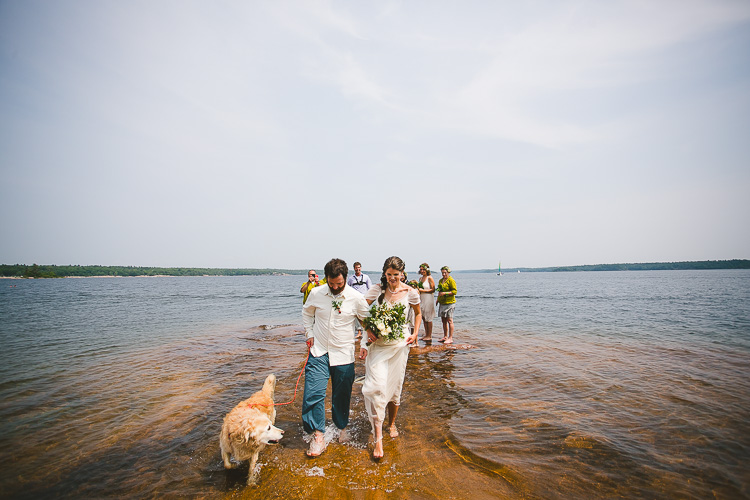 A Lovely Outdoorsy Killbear Provincial Park Wedding
I've been excited to share this wedding for some time…
For Kailyn and I, it has been quite the year.  We have had over 50 weddings between the two of us,  settled into our 1st year of married life, and bought a gem of a house in our quaint little town of Stratford, taking on the daunting task of painting EVERYTHING. Needless to say, our plate has been full.
I feel as if we are sitting on a buried mountain of golden moments, and beautiful images.   I am excited to share some of the goodness of this year.
There was nothing typical about Colleen and Andrew's wedding.  It was simple, beautiful, rustic, and so true to who they are as people.  Andrew and Colleen absolutely love the outdoors.  They were married in Killbear Provincial park.
The water level of Parry Sound had increased after the ceremony site was chosen.  Instead of moving the site, Andrew and Colleen simply decided, "No problem! We'll just stand ankle deep in the water then!"  I absolutely loved this about these two… never inhibited by any notions of how a wedding should or shouldn't be… they simply made the day their own, including:  having their dog stand with the groomsmen, tying "the knot" with climbing rope, a string of Nalgene bottles dragging behind their skiff during departing, and treating their guests to a lovely picnic on the beach following the ceremony.  Lastly, the minister wore a Gopro camera.  How wicked is that?!?
Leading up to the wedding, Colleen had been faced with some overwhelming chronic health challenges.   Energy was always in short supply.  The possibility of a wedding celebration was at times in question.
After much prayer and loads of faith, wedding plans moved forward and the day eventually arrived.  To everyone's surprise, Colleen felt fantastic and had all the energy needed to fully enjoy her day.
I came home from Colleen and Andrew's day grateful.  Grateful for genuine loving people, for the beautiful world we live in, for every day I get to spend with family, for health, and for the chance to live the dream of capturing beautiful moments in the form of art for people who truly deserve it.
And to finish it all off… we enjoyed fireworks.  And it was awesome.  The end.