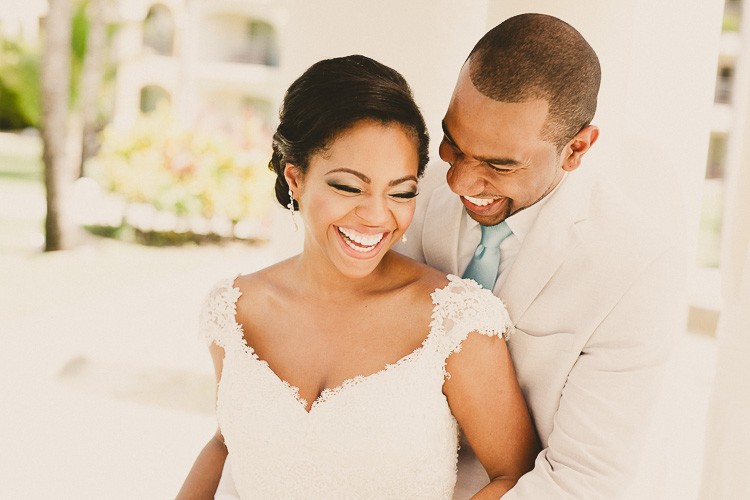 A Dreamy Garden Wedding at the Trendy Restaurant in Punta Cana
Dania had a beautiful and grand vision for her destination wedding.  It did not include oceans and sandy feet on the shores of Punta Cana, but rather a classy space with greenery and nature around.  After much searching and deliberation, the Trendy Restaurant became her venue of choice.
Dania and Terron trusted Mayte Marie with turning the Trendy restaurant into a gorgeous wedding venue. It was the first time the restaurant had been used for a wedding.  Mayte is famous in Punta Cana for her unmatched decorating ability and attention to detail.  She did an incredible job transforming the space, and made it incredibly hard not to make this blog post about details only!
We started the day at the Now Larimar resort.  Dania had Anna Nuet for hair and makeup (because she's MEGA talented), and we took some time at the resort in the early afternoon for a totally sweet first look moment, and a few photos together.  After sweating it out a little in the Dominican sun, we headed over to Trendy to check out what Mayte had done with the space.
They were married at 5pm, about 90 minutes before the sunset, which left enough time for some socializing, family portraits, and a few sunset photos.  It was totally gorgeous.  They pulled out nearly every stop for this wedding, including hiring Pastor Rick York, the Fire Dancers show, and Happy Hour Crew.  It was an epic, fun, and sweaty evening.
Dania and Terron are such a lovely couple together.  So well suited for each other, and well.. we have to face it… they're just beautiful aren't they?!?  Was such an honour to share their big day with them, and watch them take their first steps together as husband and wife.