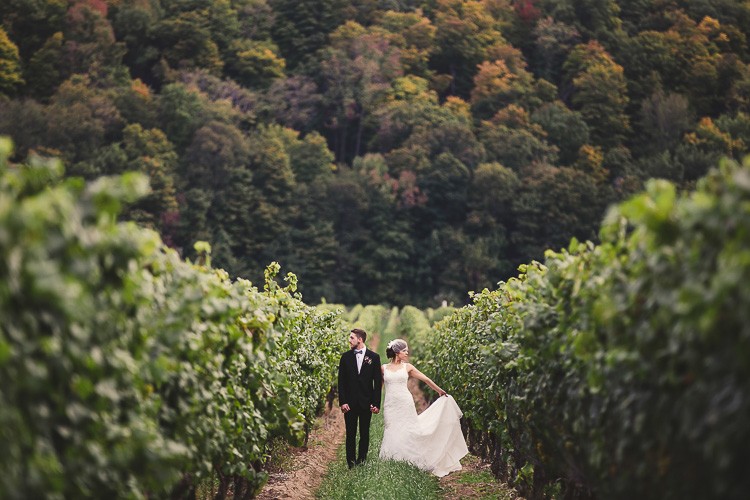 A Romantic Ontario Vineyard Wedding at Cave Spring Cellars
Celebrating with Amanda and Daniel was an absolute dream.
They chose the Cave Springs Winery for their ceremony.  With the possibility of rain looming, they opted to make use of the on site indoor chapel.  Normally Kailyn and I don't prefer to shoot indoors, however the chapel was bright, simple and clean, and had a rustic Italian flare; in short gorgeous.
Speaking of gorgeous, how great does Amanda look?! Her side-swept updo and birdcage veil were done by Selah Vie Luxury Hair and Makeup Design.
Wedding guests enjoyed socializing while the bride and groom took some time for photos in the vineyards.  The reception was held at Inn on the Twenty in Lincoln, ON.  Lincoln is a totally cute little town close to St. Catharines, and a perfect weekend getaway spot.  We even got to sneak downstairs for a few wine cellar photos before the wedding party got introduced.
The evening was full of laughs, fine dining, and epic dancing.  The DJ was the legendary Peter Lazar of  Tiger8 Entertainment, and had dance floor exploding with aerobic goodness.
Amanda and Daniel, you both are amazing.  Wonderful to see how you love each other, and to see Daniel, who was in love with Amanda since anyone can remember… finally get his bride.
Was such an honour to capture your day. All the best to you both.